Fire Ant Management
We Make Outdoors Great Again!®
Our Fire Ant Management plan is safe for people, pets, lawns and ornamentals. We offer one time, seasonal and annual plans to rid your home and yard of these stinging pests. Take back your yard! Contact us today to begin enjoying a pest free environment.
Our Fire Ant Management plans include:
Inspection and identification
Two yard treatments per year
Routine spot treatments of fire ant mounds
Year round monitoring and treatments for continuous protection
One-Time Treatments and Custom Plans available
If you have issues with fire ants, contact us for a inspection and estimate.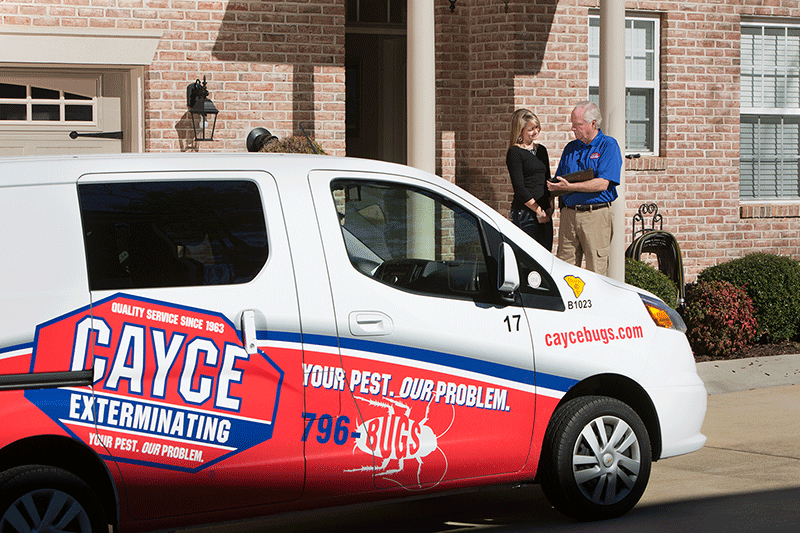 Have a Pest Problem?
Pest Control Services
Cayce Exterminating Company is a full service, insured and licensed pest management company. We provide commercial and residential pest control services. Our pest control experts can solve your problem:
Cayce Exterminating Company also offers the following services to protect your home or business:
Do you have a pest problem?
If so, Cayce Exterminating is the best exterminator in Columbia SC! We offer home pest control and commercial pest control in Columbia SC, Cayce SC & Lexington SC. Family owned and operated for over 50 years.
You can trust that our family of highly trained professionals will provide fast service with 100% satisfaction guaranteed. Our technicians are licensed by the state of South Carolina to ensure your safety as well as ours. And we'll always treat you like family – because that's what you deserve!
Call us today at 803-796-2847 or visit our website to schedule an appointment online! Pest control columbia sc is something that pest exterminators can take care of, but it should be noted that pest extermination isn't the only pest removal tactic available. In fact, pest extermination should always go hand-in-hand with pest prevention as a pest infestation can quickly become a major problem for your home.
Cayce Exterminating Company, Inc.
2229 Taylor Road
Cayce, SC 29033
803-796-2847
https://caycebugs.com/
Exterminator Columbia SC
For More Information Check Out These Pest Control Articles
https://caycebugs.com/flying-ants-vs-termites-what-you-should-know/
https://caycebugs.com/signs-of-termites-9-clues-that-you-have-termites-in-your-home/