How to Get Rid of Mosquitoes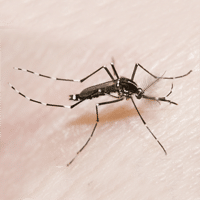 We all look forward to the onset of warm weather after a long winter. What we don't look forward to is the nagging mosquitos who threaten to ruin our outdoor fun.
Those of us who live in Columbia SC have the pleasure of enjoying many months of beautiful, hot weather that extends beyond the official start of fall. Unfortunately, this also means that our mosquito season is longer.
Mosquito pest control is at the top of all our minds the second we see that first itchy bite appears on our skin. Keep reading to learn how to get rid of mosquitoes in and around your home so that you and your family can enjoy the outdoors all summer long.
Mosquito Prevention
When it comes to mosquito pest control, the first thing you need to understand is where and how these pests like to breed and congregate. By identifying and reducing the number of places around your home that they can grow and thrive, you will significantly reduce the number of them lingering around your home and yard.
Mosquitos require only a small amount of standing water to breed. Therefore, reducing or eliminating areas of standing water is your first step in controlling the population.
Dog bowls, bird baths, baby pools-these are all highly attractive to mosquitos. These bugs need only about 10 days to lay their eggs and have them mature into adult insects.
In order to prevent the eggs from having the ability to fully mature, you should plan to tip over and dump out containers of standing water often and refilling them with fresh water if needed.
Additionally, be wary of over-watering your lawn as a perpetually damp, soggy lawn will attract these unsavory pests. Keep your gutters clean and plants and bushes trimmed back and well-groomed.
You can also help to prevent these pests from entering your home by making sure that your screens and windows are sealed and replaced if needed and by adding screen doors to any outside doors to act as a barrier to entry.
Keeping a keen eye on the state of your yard and trimmings will help you to identify and eliminate areas that can attract pests to your home.
Home and Yard Treatments
While there is a lot that can be done to help dissuade pests from breeding in your yard, you're still likely to experience mosquitoes to some degree around your home.
The best way to combat these pests is with specially designed chemical treatments that are engineered to kill both larvae and adult bugs.
Cayce Bugs is the best mosquito pest control professionals to come in and give your lawn and perimeter of your home for a professional spray down.
Mosquito Pest Control Columbia SC
As pest control specialists, we know where these summertime bugs hang out, giving us the upper hand when it comes to eliminating them. Our specially designed sprayers allow us to achieve precise application of the repellent.
Our pest control barrier treatments are a safe and effective way to ward off the bugs that threaten to keep us inside all summer long. Give us a call today 803-796-2847
Do you have a pest problem?
If so, Cayce Exterminating is the best exterminator in Columbia SC! We offer home pest control and commercial pest control in Columbia SC, Cayce SC & Lexington SC. Family owned and operated for over 50 years.
You can trust that our family of highly trained professionals will provide fast service with 100% satisfaction guaranteed. Our technicians are licensed by the state of South Carolina to ensure your safety as well as ours. And we'll always treat you like family – because that's what you deserve!
Call us today at 803-796-2847 or visit our website to schedule an appointment online! Pest control columbia sc is something that pest exterminators can take care of, but it should be noted that pest extermination isn't the only pest removal tactic available. In fact, pest extermination should always go hand-in-hand with pest prevention as a pest infestation can quickly become a major problem for your home.
Cayce Exterminating Company, Inc.
2229 Taylor Road
Cayce, SC 29033
803-796-2847
https://caycebugs.com/
Exterminator Columbia SC
For More Information Check Out These Pest Control Articles