#1 Way to Increase Your Home's Value
Bathroom Remodeling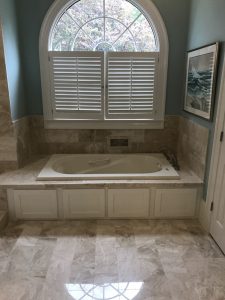 A good bathroom remodel can breathe new life into your home. Starting your day off in your dream bathroom is a great way to begin your day.
When it comes to bathroom remodeling, there are so many options: it can be as simple as new cabinets and countertops, a new shower or bathtub, or a complete remodel starting from scratch.
How you choose to remodel your bathroom depends on what you are trying to accomplish and your budget. As an experienced general contractor, Cayce Home Improvements can help you decide the best way to transform your bathroom while staying within your budget.
Increase Your Home's Value
If you are contemplating remodeling your bathroom, there are many reasons why doing so is a great investment, starting with the fact that updating your bathroom increases the value of your home.
In fact, it is estimated that US homeowners get an average of 71 cents back for every dollar they spend on renovating their bathroom. So, you not only get to enjoy all that comes with having a new, updated bathroom, you'll likely recoup a majority of your investment should you ever sell your home.
Potential homebuyers put a lot of emphasis into a remodeled bathroom. If your bathroom is updated, your home will likely be more attractive to buyers and sell quicker.
Fix Existing Issues
A good bathroom renovation will allow you to discover and fix any existing issues. Bathroom are one of the most used rooms in our home-they experience a lot of wear and tear.
If your bathroom has never been remodeled or updated and you are living in an older home, you are likely facing some issues. Whether you have broken or loose tiles, a leaking shower or tub, or your cabinets are broken and have seen better days-your bathroom could probably use a facelift and some repairs.
Leaking showers, tubs or pipes in your bathroom leave your home vulnerable to mold growth. Anytime there is leaking water or excess moisture, mold has the opportunity to colonize and begin growing.
Bathrooms are one of the most susceptible rooms in our home to mold growth and damage due to their wet, humid nature. You may have mold growing behind your walls and cabinets and not even know it until your general contractor takes it apart and has a look.
termite damage repair
general contractor
contractors near me
bathroom remodeling
crawlspace repairs
Create Your Personal Oasis
There is nothing more relaxing and soothing after a long day than a hot bath or shower in your custom designed bathroom. You spend a considerable amount of time in your bathroom, you should enjoy it.
With soothing lighting and warm, inviting colors, you can create the perfect place to start your day off right or unwind from a long day.
A bathroom that not only fits you and your family's needs, but also reflects your personal style is one in which you enjoy spending time in.
Why Choose Us?
When it comes to bathroom remodeling, Cayce Home Improvements are the contractors you can trust.
Our team has over 20 years of experience in bathroom renovations, making us your number one search choice for contractors near me in Columbia SC.
Give us a call today to see how our friendly and knowledgeable team can help you transform your bathroom into the space of your dreams.
Cayce Home Improvements
2229 Taylor Road Suite B
Cayce,SC 29033
803-796-5588
Do you have a pest problem?
If so, Cayce Exterminating is the best exterminator in Columbia SC! We offer home pest control and commercial pest control in Columbia SC, Cayce SC & Lexington SC. Family owned and operated for over 50 years.
You can trust that our family of highly trained professionals will provide fast service with 100% satisfaction guaranteed. Our technicians are licensed by the state of South Carolina to ensure your safety as well as ours. And we'll always treat you like family – because that's what you deserve!
Call us today at 803-796-2847 or visit our website to schedule an appointment online! Pest control columbia sc is something that pest exterminators can take care of, but it should be noted that pest extermination isn't the only pest removal tactic available. In fact, pest extermination should always go hand-in-hand with pest prevention as a pest infestation can quickly become a major problem for your home.
Cayce Exterminating Company, Inc.
2229 Taylor Road
Cayce, SC 29033
803-796-2847
https://caycebugs.com/
Exterminator Columbia SC
For More Information Check Out These Pest Control Articles